Spring Career Expo 2019 – A Great Success!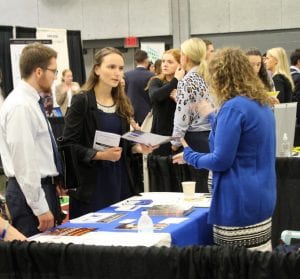 Well, I am happy to report that our Spring Career Expo took place on February 13th — right on schedule. As some of you may recall, last year's event was cancelled due to a snow storm, and a modified version was held a few weeks later.
I recently had the opportunity to connect with Eileen Wisnewski, director of the Center for Career Education & Professional Development, to ask her about the Expo and to share some advice that parents might want to pass on to their students who may or may not have attended the event.
Eileen and her staff are excited to announce that "We have officially broken a second student attendance record for our Spring Career Expo! We had almost 880 students meeting with employers, volunteer organizations, and graduate schools. This comes on the heels of breaking our Fall Career Expo attendance record in October with more than 1,580 students. We had more than 100 organizations attend – almost 45 were non-profit and 10 were graduate schools."
Her advice to parents:
If your students went to the Expo, encourage them to keep the momentum going by using Handshake to apply to upcoming opportunities, and FriarLink to network with alumni for career advice! If your son or daughter was not able to attend, tell them it's not too late. They can stop by Slavin 108 Monday – Friday at our Daily Drop-In hours for help in getting started.
So glad Mother Nature cooperated!
Jackie